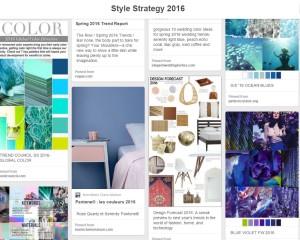 2016 Style Strategy
These styles may be here for a couple of years as Trends are defined as something that last for over two years…
Wikipedia says: Long-term forecasting is the process of analysing and evaluating trends that can be identified by scanning a variety of sources for information. It is a fashion which lasts over two years.When scanning the market and the consumers, fashion forecasters must follow demographics of certain areas, both urban and suburban, as well as examine the impact on retail and its consumers due to the economy, political system, environment, and culture. Long-term forecasting seeks to identify: major changes in international and domestic demographics, shifts in the fashion industry along with market structures, consumer expectations, values, and impulsion to buy, new developments in technology and science, and shifts in the economic, political, and cultural alliances between certain countries. There are many specialized marketing consultants that focus on long-term forecasting and attend trade shows and other events that notify the industry on what is to come.
Here's a quick list for 2016 Style Strategy:
Clothing Styles for 2016 says Harpers Bazzar look like this – Spring 2016 – (hint 'flared jeans' and iconic purses are back!)
Decorating Styles for 2016 are mix-matched kitchen cabinet, black stainless steel appliances, formal dining rooms, (are the 50's are coming back?)
Colour Direction for 2016 by Pantone are two colours combined Rose Quartz and Serenity.
Colour expert – Maria Killam says that trends in home decor in 2016 everything goes!
Finally!   I personally believe that your 2016 Style Strategy should be to follow your own 'Unique G.U.R.U. Style'  and incorporate some of the 'trends' to update your look ONLY if they enhance your personal style, interior design and business brand and organizing style.
When you know your core inner desires, love and know how to enhance your body shape, wear your 'power colours' to feel young and vibrant and transition all these factors into your living space – now that is your 2016 style strategy which will continue to grow more elegant through the years…
Take the IMAGE TO INTERIOR – Fill-in Mini Style Report  (on side bar >>) to find out what 'Your Uniquely You Style Is'.  Post your comments below or on our FB page – love to hear how you are going to incorporate the 2016 trends into your style and space!
Simply Me by Design,
Jan Addams
(Designer, Author, Trainer)