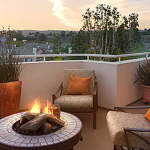 In January, my husband and I downsized from a 3700 sqft. home on a half-acre to a low maintenance 2500 sqft home in the city with virtually no storage.  A month later after a horrific move (we thought we had downsized – apparently not enough…) we are now nestling into our new home.
Rather than bemoan the fact that we have no space, we have embraced the challenge and have called it 'Resort Style Living'.  When we are on holidays, we typically stay in an apartment style room with a beautifully decorated living room, bedroom(s), bathroom, and a mini kitchen with an eating area plus a laundry closet. There is internet, a TV and everything we else we need with nothing extra: 4 sets of cutlery, dishes, coffee maker, toaster oven, microwave, pots and pans, utensils as well items we need to cook with. There are also 2 sets sheets, towels; pillows, blankets… you get the idea. If we need anything, we call the management and it is taken care of.  We are there to have fun by exploring and enjoying our vacation destination.
We took that concept and are creating a 'Resort Style Life'.  We have thrown or given away items that no longer has a place in our home and have made room for things of enjoyment in our retirement years, such as a fun car, pool table, TV room and other areas (inside and out) to entertain family and friends. When we get back from our next holiday we won't be sad to come home because we are living a Resort Style Life.
4 TIPS for Resort Style Living:
Identify your true passions (hobbies, collections, entertainment, sports etc). Keep the items you will use and sell or give away the rest.  (I collect all things 'Mermaid' and of the sea.)
Create a uniquely you spot in your home for each member of the family. (We have our own personalized office areas that is congruent with the theme of our home's colours and style).
Keep only items that give you the most joy and good memories. Take pictures of everything else as a digital memory.  (I took pictures of photos fading away in old albums and placed them on an expandable memory card in my digital frame continuously playing in my office.)
Create a vacation themed home with furniture and accessories, colours, scents, and sounds that transitions your home (no matter its size or location) with your favourite vacation spot. (My husband and I are water babies that love the ocean; we are in the process of creating a tropical resort theme in our new home – now we can't wait to get back from our Hawaiian vacation to our own little Mediterranean Resort.)
What type of Resort Style Living home do you want to make?  Share your thoughts below and let's brainstorm ways to create it (uniquely and on a budget).
Written by Jan Addams (Designer, Author, Trainer) DAT Girl