Hi there, Jan Addams here…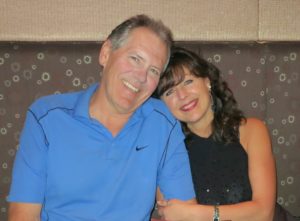 I know its been awhile since we last chatted. To be honest, I have been way too busy helping my interior design clients with their renovations or new builds and looking after my family. This included helping my loving mother-in-law with aging in place concepts until we 'happily' placed her in a wonderful care facility even though she constantly told us 'I'll take poison if you take me from my home' and then promptly forget what she said or was talking about. I honestly didn't have enough time and energy for anyone including myself. I did however, learn alot in that process about Dementia and the mind; about security for our loved ones and accessibility design.
In the midst of all the above, my husband and I also went through the horrible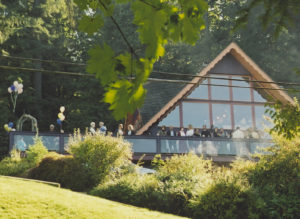 process of de-cluttering, depersonalizing and 'staging to sell' our home that we lovingly called 'The Lodge' filled with many happy memories. Though we loved our home and area, we could no longer keep living and working on it as it required younger bodies and large cash inlay to bring it up to date. However, we didn't want to 'downsize' our lifestyle so it was important to find a place we could spend at least the next 10 years in, and a condo was not an option.
We made a long 'wish' list; short 'need' list and found ourselves another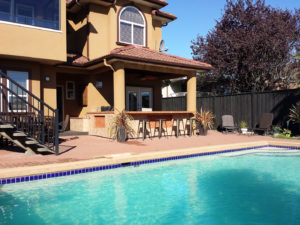 'character' home that was newer and required lower maintenance. It has many 'universal design' components in it (no threshold entranceway; tile and hardwood flooring; easy access to the outdoor living space) that was perfect for us. We changed all the knobs to levers; bulbs from incandescent to LED and have personalized our space (created an outdoor kitchen and new main kitchen). Our jobs now are doing enjoyable maintenance on our 'little' front and back garden area – awesome!
We are free to make more happy memories in our newer 'Resort Style Home' in the city! Time is precious, sharing it with family and friends in a home you love that is a reflection of your personal lifestyle, I believe is the key to happiness.
If you are like me, a fellow baby boomer, you and/or your mate may be already,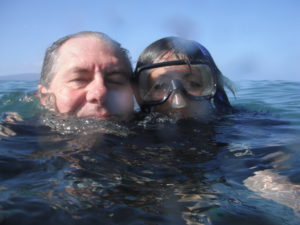 or are thinking of retirement which creates two-edged, happy / scary thoughts for most of us. We want more time to travel and enjoy the rewards of our hard work. Unfortunately, we also realise that health issues and being physically able to do all the things we want may not be possible.
So how do we 'have our cake & eat it too?'
I am now turning my attention to sharing my 35 years of knowledge, experience and expertise in the field of Interior Design, Staging, Renovation and Building to helping those that are just embarking on these adventures and those, like myself that are now looking at 'Aging in Place – Resort Style!'
1. Recognize that changes are necessary as our minds may still be young in attitude, but our bodies need a break!
2. Live a simpler, colourful, organized & inspiring life that has the 'best' of everything you can afford.
3. Surround yourself with your 'happy colours' & positive memory accessories.
4. Design your place with stylish & convenient accessibility products that are ensured to last 7 to 10 more years while you are enjoying your life.
Come along with me on my journey and learn from my experience to save you tons of money, sleepless nights, stress and frustration. I have the KEYS to prevent this. I have prepared 4 FREE Training videos to help you. Let me know what you would like to find out more about and I will research and post my findings in upcoming emails.
Cheers!
Jan Addams (Fellow Baby Boomer)
Designer, Author, Trainer
---
Let's Get Started > Aging in Place – Resort Style
The four views you will recieve upon subscribing will come like this:
Immediately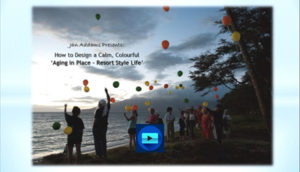 Video 1:
'What is Aging in Place – Resort Style'?
Learn about the rapidly GROWING Interior Design Trend!
Baby Boomers have, are in the process of, or are thinking of retiring and trying to decide what to do with their money, their home and the rest of their life.
3 Days later
.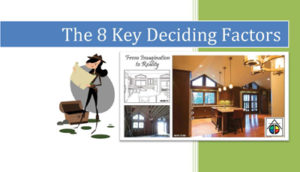 Video 2:
The 8 KEY Deciding Factors
Should you stay in your home and Renovate, or Sell and Build? Jan asks all her clients to answer these 8 questions to help them make the best decision for their pocket book and life. Every decision requires thought & compromises.
5 Days later
The 'Space Options Survey'
Jan shows how your Personality, Body Shape & Colouring transition into your Interior Design and teaches you how to fill out this survey to ensure your 'renewed or new' space is functional, beautiful & reflects your style.
7 Days later
Introducing DESIGN DOMINOES
I walk through the 8 Steps I use with my clients on every Renovation or New Build. This 8 module ONLINE training system comes with a custom Interior Project Binder to keep them on time & budget while having FUN!
>
I am here to help you design a 'Resort Style Life'
Visit www.JanAddams.com my new ONLINE training site to get more info.