All Interior Design Services provided by IMAGE TO INTERIOR® follow this Philosophy:
We believe your personality, body shape & colouring affect not just the cut, colour & style of your wardrobe 'Image' but also influences the scale, colour & theme of your 'INTERIOR'. If you are an Entrepreneur or Small Business Owner we feel your 'Industry' Style should flow thru to your Brand, Office & Organizational Style – your G… U R U Style Strategy!
We create Interiors around Your Style not Our Style – Simply You by DESIGN…
Why Hire an Interior Design 'Style Strategist'?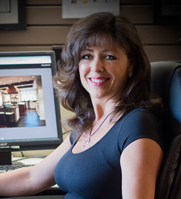 If you are looking for ONLINE Design assistance, a professional interior colour, design and space consultant, you need someone that is going to help you realize your 'dream vision' not someone that will impose their 'designer' style on you. By understanding your personal style, colour and interior needs, you will be able to live & work in a calm, colourful and inspiring space that reflects 'your lifestyle & budget'.
Principal Designer, Author, Trainer – Jan Addams LIIID, MIRM is an Award Winning, Licensed and Accredited Interior Designer ( 35yr+) she Saves her Clients on average between *$5,000 – 50K per project. (*Savings vary on size, location, complexity and her involvement in the interior project)
How is this possible?
A mini questionnaire is sent via email, completed and sent back for her to review & assess how to best help you.
Next, is the On-line or *Onsite Design Consultation (Min. 3hr pkg) she will quickly assess your needs & wants around your project budget allowance. As she has reviewed your Blueprint / Space plans sent to her she will offer suggestions on how to adjust them around your current lifestyle; future use & occupancy time line (how long you plan on staying in the space).
Jan has the ability to see multiple ways to $ave money through utilizing your space in better ways (before you renovate or build) and investing in either cost saving or higher return on investment interior products.
Should you wish to hire her to work on your interior project she will roll the initial 3hr consultation into the next phase 10 /20hr pkg or whole home pkg. Plus, you'll receive the IMAGE To INTERIOR® proprietary systems to help you simplify the Interior Design Process. Upon completion of your project, a personalized binder with all your project details is given to you for future reference and insurance (see below).
Jan is a Baby Boomer and now focuses her Experience and Expertise on helping those that want to Age in Place – Resort Style. To find out how? CLICK HERE!
Also, she offers:
10 – 50% Designer Discounts on many products – hiring her is like getting Professional Design Assistance for FREE!
ON-LINE Design which is 'Virtual' Concept Interior Design, Space Planning and Product Sourcing via Skype, Google Chat, Phone & Email.

ON-SITE Custom Homes in Vancouver, Burnaby, Anmore, Belcarra, Tri-Cities BC, Canada (Outside these areas Travel Fees Apply)Our Interior Design Services:
Contact Jan Addams for A FREE Initial DESIGN 'PHONE' Consultation HERE: